Reliable empty alarm in cosmetics tank with NCS-L-12/18
Anderson-Negele level switch at L'Oréal
27 Jan 2016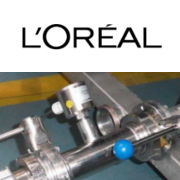 In a tank for pasty cosmetic products, the cosmetics company uses a point level sensor to issue an empty alarm that protects the mono pump against dry running. On account of adherent media, previously used sensors repeatedly resulted in false alarms and failed to provide adequate protection against dry running.
The solution was to install the specially designed NCS-L-12/18 level switch from Anderson-Negele: This sensor features an elongated sensor tip (18 mm longer) that prevents the adhesion of media, making it possible to reliably distinguish between a full and empty state. In addition, the sensor can be adapted to different media by means of a sensitivity setting.
11 Apr 2016

ATEX Temperature Sensors for Food and Pharma...

27 Jan 2016

Anderson-Negele level switch at L'Oréal...

6 Aug 2015

FrieslandCampina uses the NCS-L-11/50...